Can American Democracy Survive the 2020 Elections?
The role of media, law, political norms, and technology in assuring acceptance of election results.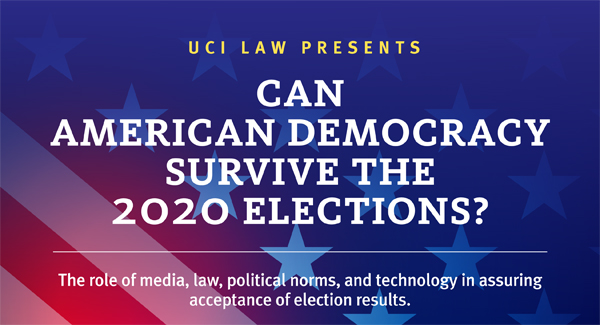 February 28, 2020
8:15 a.m.–5:00 p.m.
UCI Division of Continuing Education, Yosemite Ballroom
This event is presented in conjunction with the UCI Jack W. Peltason Center for the Study of Democracy and with the generous support of the Democracy Fund, the William and Flora Hewlett Foundation, and the Mertz Gilmore Foundation.
Andrew AppelEugene Higgins Professor of Computer Science, Princeton University
Julia AzariAssociate Professor and Assistant Chair of Political Science, Marquette University
David BeckerExecutive Director & Founder, Center for Election Innovation and Research
The Hon. Jocelyn BensonSecretary of State, Michigan
Bruce CainProfessor of Political Science, Stanford University
Jack DoppeltHamad bin Khalifa Al Thani Professor of Journalism, Northwestern University
Tiana Epps-JohnsonFounder & Executive Director, Center for Technology and Civic Life
Ned FoleyCharles W. Ebersold and Florence Whitcomb Ebersold Chair in Constitutional Law; Director, Election Law @ Moritz, Ohio State University
John FortierDirector of Governmental Studies, Bipartisan Policy Center
Patty HansenCoconino County, AZ Recorder
Rick HasenChancellor's Professor of Law and Political Science, UCI Law
Liz HowardCounsel, Brennan Center's Democracy Program
Jessica HusemanVoting Rights and Election Administration Reporter, ProPublica
David KayeClinical Professor of Law, International Justice Clinic Director (UCI Law), and UN Special Rapporteur on the Promotion and Protection of the Right to Freedom of Opinion and Expression
Neal KelleyOrange County, CA Registrar
The Hon. Frank LaRoseSecretary of State, Ohio
Matt MastersonU.S. Department of Homeland Security
Michael MorleyAssistant Professor of Law, Florida State University
Janai NelsonAssociate Direct-Counsel, NAACP Legal Defense and Educational Fund
Brendan NyhanProfessor of Government, Dartmouth College
Cailin O'ConnorAssociate Professor of Logic and Philosophy Science, UCI School of Social Sciences
Norm OrnsteinResident Scholar, AEI
Nina PeralesVice President of Litigation, MALDEF
Nate PersilyJames B. McClatchy Professor of Law, Stanford University
Rick PildesSudler Family Professor of Constitutional Law, NYU
Song RichardsonDean and Chancellor's Professor of Law, UCI Law
Bertrall RossChancellor's Professor of Law, UC Berkeley
Alex StamosDirector, Stanford Internet Observatory, Stanford University
Charles StewartKenan Sahin Distinguished Professor of Political Science, MIT
Michael TeslerAssociate Professor of Political Science, UCI School of Social Sciences
Ciara Torres-SpelliscyProfessor of Law, Stetson University
James WeatherallProfessor of Logic and Philosophy of Science, UCI School of Social Sciences
Amy WilentzProfessor of English, UCI School of Humanities
Kim ZetterJournalist and Author